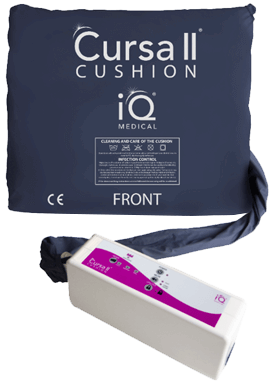 Alternating Air Cushion System
The Cursa II cushion is an alternating air cushion suitable for patients up to  very high risk of developing pressure injuries or for the treatment of existing tissue damage when seated. The maximum patient weight limit is 200kg.
24 hour preventative and therapeutic care is provided when used alongside a pressure redistributing mattress.
Product Features and Benefits
Alternating 10 minute cycle providing pressure redistribution
Three comfort settings allowing individualised care
Fully automatic control unit for ease of use, simplifying set up minimising user error and time required for training.
Whisper quiet power unit minimising patient disruption
Non-slip base and securing straps to maintain patient safety
Easy to clean and decontaminate supporting infection control needs
Troubleshooting guide on power unit enabling caregivers to rectify issues quickly and easily
Reliable, high-quality manufacture with comprehensive warranty provide cost savings and reduced down time
iQ Cursa II Cushion SPECIFICATION
(*) Multiple Mode = Dynamic, Constant Low Pressure, and Maximum In ate

"We have seen a remarkable improvement in the partnership approach that is now demonstrated by all the staff from IQ Medical, with quicker decision making processes in place, speedier responses to enquiries, the delivery of audit data in a robust and accurate manner."