Before we address the aetiology of pressure ulcers/ injuries it is important to understand the structure and functions of healthy skin.
The skin is the largest organ in the body covering an area of almost two square meters and is made up of three layers, the epidermis, dermis and the hypodermis or subcutaneous tissue. Its thickness is between≤ 0,1mm at its thinnest part such as the eyelids to 1.5 mm on its thickest part palms and soles of the feet (Kolarsick et al, 2011)
The main functions of the skin are:
– Protection
– Thermoregulation
– Sensation
– Excretion
– Metabolism/Absorption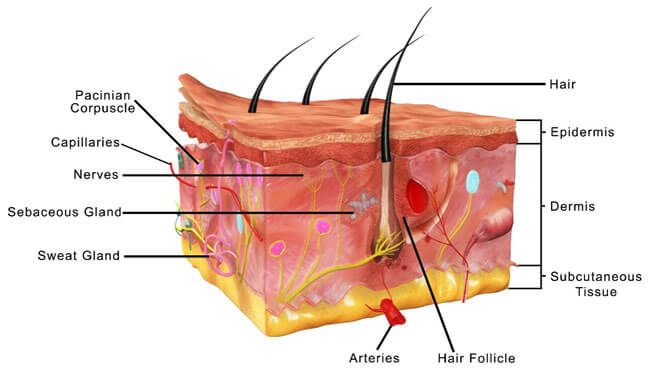 Epidermis
Dermis
Hypodermis/ Subcutaneous Tissue
Epidermis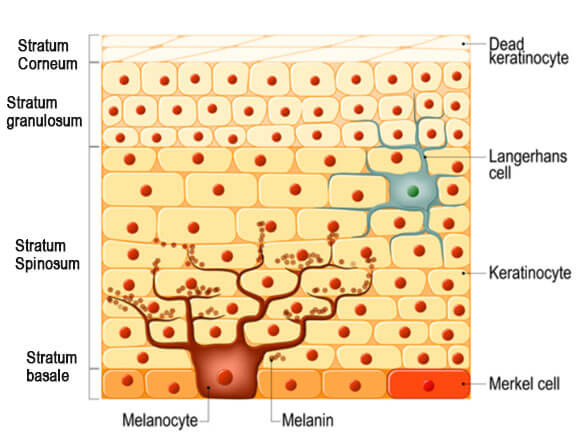 – The epidermis is the outermost layer consists of four sublayers and five in the thickest areas such as the palms, soles of feet and digits. – The main function of the epidermis is protection providing a physical and biological barrier to the external environment protecting underlying tissues and organs from mechanical damage and ultraviolet light. It also prevents irritants and allergens entering, maintains water retention and has an important role in thermoregulation. – The layers correspond to the progressive stages of differentiation in the keratinocytes the most common cell within the epidermis (95%) (Lawton S, 2019). The keratinocytes continually generate migrating from the stratum basale to the stratum corneum where they are flattened, dead and shed, this process takes approximately 28 days. The Keratinocytes produce the protein keratin which provides the strength to the epidermis. – Other cells include melanocytes which give the skin and hair colour, langerhans cells which play a part in the body's immune system engulfing antigens and merkel cells found in areas such as the fingertips, palms, soles, lips and genitalia have a role in touch and sensation.
Dermis
Hypodermis/ Subcutaneous Tissue