Decontamination,
Service and Repair
As a trusted Service and Decontamination provider, IQ Medical offers a range of Solutions for maintaining Pressure Care Equipment including a complete, in-house pressure care decontamination service for NHS Trusts and Private Healthcare sectors.
We can tailor the service provided to meet specific customer requirements ranging from ad-hoc decontamination to the full management of pressure care systems including decontamination, servicing and repairs.
Floor plan Layout of our Infection Control and Decontamination Facility: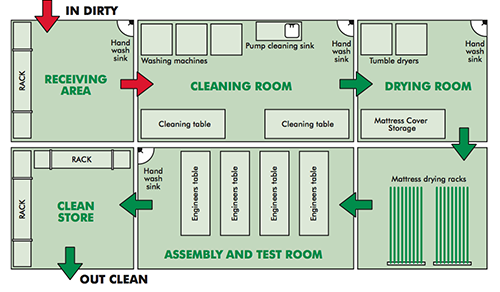 We have made a significant investment in our infection control and decontamination centre. All areas are segregated throughout the process to prevent cross contamination with separated dirty and clean entrances and areas.
IQ Medical offer a variety of contract options to support customers with preventative maintenance and servicing for a range of medical equipment.
Our highly-skilled Engineers are competent with a wide range of equipment from a range of Manufacturer's.
For more information on Decontamination